References
Please feel free to visit our reference page in order ot learn more about our work.
"Thank you very much for the really wonderful organisation and the festive atmosphere. Both we as exhibitors and the students have benefited from the event to a great extent. There was a lively exchange with the students. In this context, a first personal contact is always more desirable than just a written application.
In any case, we would like to thank you for the organisation of the event and will most likely be back next year."
"The cooperation and support on site was to our complete satisfaction. For this reason we would like to thank you for a successful event. We were able to make many contacts during the event and got to know many students from diferent faculties.
We are already looking forward to positive reports from the students and to a hopefully successful event in 2019."
"[…]I am pleased to confirm that this industry-specific career fair […] was very beneficial for our students. Many of our students visited this fair to get in touch with companies and received internships for the Practical Semester (BPS). We would like to continue working with you in the future. Many thanks for your commitment."
The AkWW e.V. works in close cooperation with the following companies in the civil engineering sector: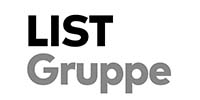 The AkWW e.V. works in close cooperation wih the following companies in the  Life Sciences sector: