1. Structural Engineering
Structural Design, Building Physics, Fire Protection, Bridge Construction, Building Maintenance, Technical Equipment Construction , Structural Engineering, Architecture
Wednesday 24th and Thursday 25th March 2021
2. Civil Engineering / Infrastructure / Environment
Traffic engineering, sewer construction, water management, landfill construction, pipeline construction, tunnel construction, surveying, environmental planning, demolition
Wednesday 19th and Thursday 20th May 2021
3. Construction and operation
Construction companies, project management offices, housing associations, real estate industry, prefabricated construction
Wednesday 3rd and Thursday 4th November 2021
4. Public Sector
All study ares concerned with building construction, civil engineering, infrastructure, construction operation, construction execution
1234545343453343434
Wednesday 22nd and Thursday 23rd September 2021
Career Day Civil Engineering North Rhine-Westphalia
Students from the 3rd semester onwards from 14 faculties at 12 universities
Thursday 7th October 2021 in Wuppertal
Career Day Civil Engineering Berlin/Brandenburg
Students from the 3rd semester onwards from 14 faculties at 10 universities
Thursday 2nd December 2021 in Berlin Falkensee
Online Career Days Life Sciences / Chemistry
All business areas
Wednesday 28th April 2021
Focus: Chemistry
Thursday 29th April 2021
Online Career Days Life Sciences / Chemie
All business areas
Wednesday 8th September 2021
Focus: Research
Thursday 9th September 2021

Career Day Life Sciences Hesse / Rhineland-Palatinate
Students from the 3rd semester onwards from 14 faculties at 12 universities
Thursday 18th November 2021 in Langen
Publication strategies in Life Sciences
Those who can write have a clear advantage
Recognising unconscious bias
How to discover what we don't know
Emotionally intelligent Management
The soft skills that make the difference
Third-party research funding
Money rules the (research-) world
Starting your new job – The first 6 months
Career in academia or business?
Changing your job or staying put?
Career Day Civil Engineering
NRW and Berlin/Brandenburg
The Career Day Civil Engineering is created in close cooperation with companies and universities with a specific focus on the construction industry
Hesse / Rhineland-Palatinate
The Career Day Life Sciences is aimed at students and companies in the field of life sciences from Hessia and Rhineland-Palatinate. 
Useful ressources about the field of Life Sciences
Here you can find interesting articles, videos and links from the field of life sciences, as well as information on careers in this sector.
References
Please feel free to visit our reference page in order ot learn more about our work.
"Thank you very much for the really wonderful organisation and the festive atmosphere. Both we as exhibitors and the students have benefited from the event to a great extent. There was a lively exchange with the students. In this context, a first personal contact is always more desirable than just a written application.
In any case, we would like to thank you for the organisation of the event and will most likely be back next year."
"The cooperation and support on site was to our complete satisfaction. For this reason we would like to thank you for a successful event. We were able to make many contacts during the event and got to know many students from diferent faculties.
We are already looking forward to positive reports from the students and to a hopefully successful event in 2019."
"[…]I am pleased to confirm that this industry-specific career fair […] was very beneficial for our students. Many of our students visited this fair to get in touch with companies and received internships for the Practical Semester (BPS). We would like to continue working with you in the future. Many thanks for your commitment."
The AkWW e.V. works in close cooperation with the following companies in the civil engineering sector: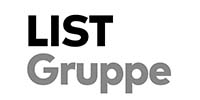 The AkWW e.V. works in close cooperation wih the following companies in the  Life Sciences sector: